Home > Treks > Huayhuash
HUAYHUASH
Duration:
10 Days / 9 Nights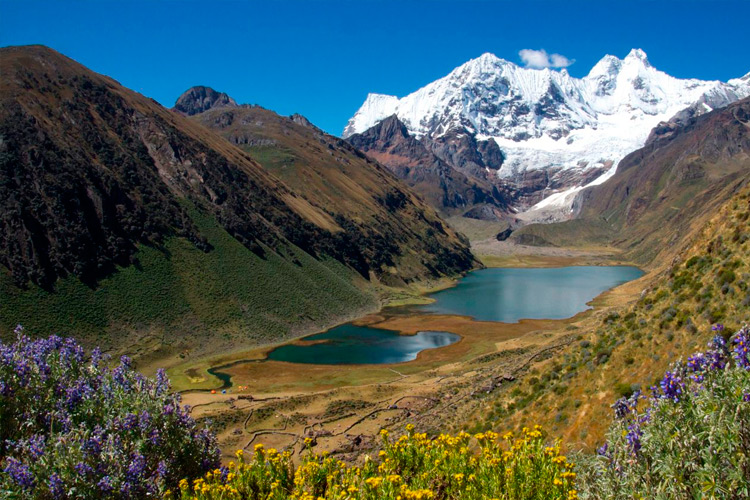 Day 1: HUARAZ – LLAMAC - JAHUACOCHA
We will take our bus for an approx. 4:30 hrs. trip to the South of Huaraz to the lagoon of Conococha (4100 m) taking the detour to the left to go down to the village of Chiquian, after a short break we continue until the town of Llamac (3300 m) there we will wait our muleteers with mules to start our trek of approx. 7 hrs. We will climb up to Pampa Llamac (4300 m) then we descend to the Lake from Jahuacocha (4200 m). Camp.
Day 2: LAG JAHUACOCHA – CUARTELHUAIN
Breakfast very early to begin our trek of approx. 7 hrs. along a smooth slope along the Gorge to reach the Lake of Solterococha (4250 m), then ascend to cross the pass of Sambunya (4750 m) being able to appreciate the mountains of Ninashanca, Rondoy, Yerupaja and others. Then we will descend and reach the camp at Cuartelhuain (4100 m).
Day 3: CUARTELHUAIN– LAG MITUCOCHA
This day is one of the shorter ones, after the breakfast is home to our trek from approx. 5 hrs, cross pass Cacananpunta (4 750 m) then descend to camp in the Mitucocha Lake (4 300 m). From here we have a panoramic view of the mountains Jirishanca, Ninashanca, Rondoy and others.
Day 4: LAG MITUCOCHA – LAG CARHUACOCHA
Breakfast. We take the trek of approx. 6 hours, we ascend to cross the pass of Carhuac (4650 m) to then go down to Carhuacocha lagoon (3900 m) where we will establish our camp from here you will have a spectacular view of the mountains Yerupaja, Carnicero, among others.
Day 5: LAG CARHUACOCHA – HUAYHUASH
After breakfast, we began our approx. 7 hrs walk trek, we will descend to visit the lagoons of Ganrajanca, Siula and Quesillococha then we ascend the Siula (4800 m) pass taking the view of several mountains then we descend again to camp Huayhuash (4300 m).
Day 6: HUAYHUASH - VICONGA
After breakfast we began our approx. 5 hrs. trek. Ascending smooth to the pass of Portachuelo de Huayhuash (4650 m) from where we can see part of the Cordillera Raura. Then we will start our descent to Viconga lagoon (4300 m), this day we can take a refreshing bath in the Thermo-medicinal baths of Viconga, there will be the place of our camp.
Day 7: VICONGA – CUYOCPAMPA
We will have our breakfast to take forces and start our approx 6 hrs. Trek. This day we go through the highest pass of our Trek, Cuyoc pass (5000 m) from here we can appreciate the main mountains of the cordillera Huayhuash as Siula, Yerupaja, among others. Then we descend to the camp of Cuyocpampa (4 600 m). In the afternoon we visit the mirador de San Antonio from here we will observe the snowy mountain Siula
Day 8: CUYOCPAMPA - HUATIAC
We start our 8 hrs. approx. Trek early in the morning. We go down to the Gorge of Guanacpatay to the village of Huayllapa, here you can stock up on food to then ascend to our camp from Huatiac (4300 m) from here you can see the Diablo Mudo mountain.
Day 9: HUATIAC – LAG JAHUACOCHA
After taking our breakfast we take to our Trek of approx. 7 hours going through the steps of Tapush (4800 m) and Yaucha pass (4800 m) to descend to the Jahuacocha Lagoon (4200 meters above sea level) where we will camp, observe the mountains Hirishanca, Yerupaja, Carnicero and others.
Day 10: LAG JAHUACOCHA – LLAMAC – HUARAZ
It is the last day of our trek, we will have our farewell breakfast to start our of approx. 5 hrs. trek, ascending to Pampa Llamac (4300 m) from where you can see last the Huayhuash mountain range then descend to the village of Llamac where after a brief rest, we will take our bus to Huaraz.
Our services include
Rates
1PAX: US $--
Includes
Private transportation Huaraz – Llamac - Huaraz from their hotels.
Foods of the day during the trek (breakfast, box lunch and dinner)
Official trekking Guide.
Assistant / Cook (over 4 pax).
Carriers and donkeys to carry the equipment of use common.
01 emergency horse
Mountain equipment (double tents, dining tent, kitchen tent, toilet tent, mattress, kitchen, services, tables, chairs)
First aid kit.
Entrance to the Parque Nacional Huascarán.
Not Included