Home > Treks > Cedros Alpamayo
CEDROS – ALPAMAYO
Duration:
7 Days / 6 Nights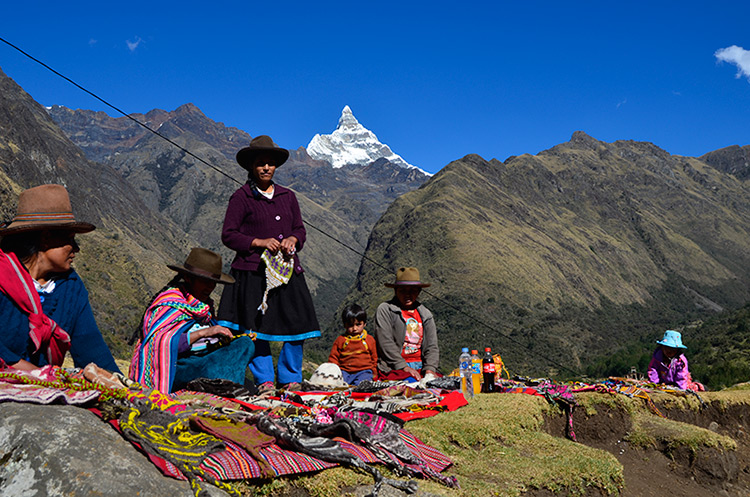 Day 1: HUARAZ – VAQUERIA – PARIA
Very early we take our transportation. It takes approx. 4 hrs. At the journey we will see the Llanganuco lagoons, the snow-covered Huascarán, Chopicalqui, Pisco and others. We are arriving at Vaqueria (3700 m) to start the approx. 6 hrs. trekking. We will go up to Yanachaca then we ascend slowly through the Huaripampa Valley where you can appreciate the mountains Chacraraju, Pucaraju and Taulliraju then get to camp in the Paria Gorge 3890 m.
Day 2: PARIA – HUECRONCOCHA
We take an early breakfast to begin the approx. 6 hrs. walk. First it takes a moderately rise up to Tuctupampa 4 000 m through the high Andean forests and we will observe different species of birds, continuing the rise more precipitously to 4650 m high Pucaraju pass from where you have a view of the mountains Huascarán, Pariah, Chacraraju, Taulliraju, Pucahirca among others. Then we will descend to camp Huecroncocha 4100 m.
Day 3: HUECRONCOCHA – JANCAPAMPA
We take our breakfast very early to start a walk of approx. 6 hrs., This day the hike is easy, flat and descent, you can see the snow-capped mountains Taulliraju, Pucaraju and Tayapampa then we go to Jancapampa camp (3800m).
Day 4: JANCAPAMPA – HUILLCA
We will begin the approx. 7 hrs, walk. This day is stronger then we will ascend for 4 hrs. until the Yanapampa pass 4750 m. Here we will enjoy the view of the beautiful lakes and beautiful high Andes flora, then we will descend to the camp of Huillca 4250 m
Day 5: HUILLCA – JANCARURISH
It is the starting of the 7 hrs. walking. We will go through 2 passes, from Huillca a 2 hrs. ascend to Moyobamba (4500 m) here we can see the mountains Moyobamba, Pucajirca and Safuna lagoon, then we continue to go through the pass of Cara Cara at 4800 m from where we can see the famous mountains Alpamayo, Santa Cruz, Quitaraju and the lagoon 42 to descend to the camp of Jancarurish to 4100 m.
Day 6: JANCARURISH – CULLICOCHA
It is the starting of the 7 hrs. walking. This day we also go through 2 passes, first we descend 1 hr. to the ruins then we ascend to the Osoruri pass at 4680 m and then we go through the Hatunhirca pass, the site of pre-Hispanic ceremonies and rituals and where you can see the snow-capped mountains of Santa Cruz with its 3 peaks and the Pumapampa and also the Cullicocha lagoon at 4300 m then descend to the camp.
Day 7: CULLICOCHA – HUALCAYAN – HUARAZ
Last trek day. We first ascend. Here you will have a view of the lagoons of Cullicocha then we descend observing various archaeological sites to the town of Hualcayan to board the bus with destination to Huaraz with approx. 3 hrs. drive
Our services include
Rates
1PAX: US $--
Includes
Private transportation Huaraz – Vaqueria / Hualcayan - Huaraz from their hotels.
Foods of the day during the trek (breakfast, box lunch and dinner)
Official trekking Guide.
Assistant / Cook (over 4 pax)
Carriers and donkeys to carry teams use common.
01 emergency horse
Mountain equipment (double tents, dining tent, kitchen tent, toilet tent, mattress, kitchen, services, tables, chairs)
First aid kit.
Entrance to the Parque Nacional Huascarán
Not Included